Descriere la The Outpost (TV Series 2018– ), serial online pe net subtitrat in limba Româna
16 total views, 2 views today
The Outpost (TV Series 2018– ), serial online pe net subtitrat in limba Româna
Talon, singurul supraviețuitor al unei curse numită Blackbloods, se îndreaptă spre marginea civilizației pentru a-și urmări ucigașii familiei. În călătoria ei, ea descoperă că are puteri supranaturale pe care trebuie să învețe să le valorifice pentru a-și atinge obiectivele.
Talon, the lone survivor of a race called the Blackbloods, sets off to the edge of civilisation to track her family's killers. On her journey she discovers she has supernatural powers which she must learn to harness in order to achieve her goals.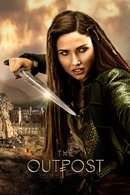 Season 1
2018 | 3 de episoade
Sezonul 1 al filmului serial The Outpost a fost difuzat în premieră pe data de 10 Iulie 2018.